Spending time in sunny San Diego around Valentine's Day and looking for some ideas on how to spend this special day?
If you're looking for romantic things to do in San Diego, whether that's for Valentine's Day or for a romantic date night any time of year, check out our a few of our suggested activities. 
Wander Balboa Park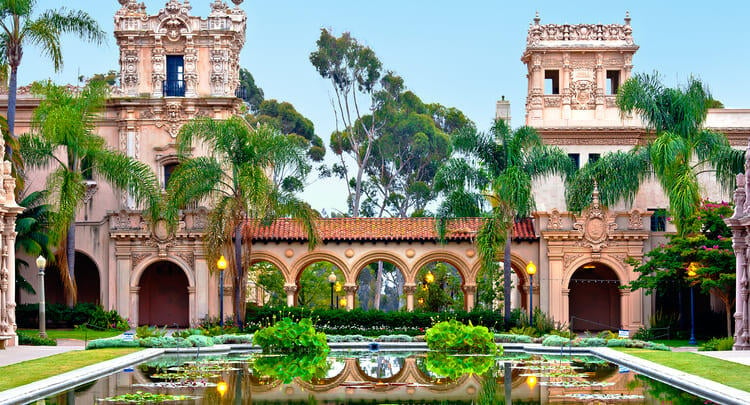 San Diego is one of the most temperate cities in the country, and is likely to be pleasant even in mid-February. So there's no reason why you can't spend an afternoon or an evening walking with your loved one through the nation's largest urban cultural park.
In addition to its beautifully cultivated gardens and striking architecture, Balboa Park also features some of the region's premier museums. So whether your love's deepest desire is to visit the pandas at the San Diego Zoo, or gaze upon the stars at the Fleet Science Center, you will find plenty to do indoors and out. 
Stroll the Japanese Friendship Garden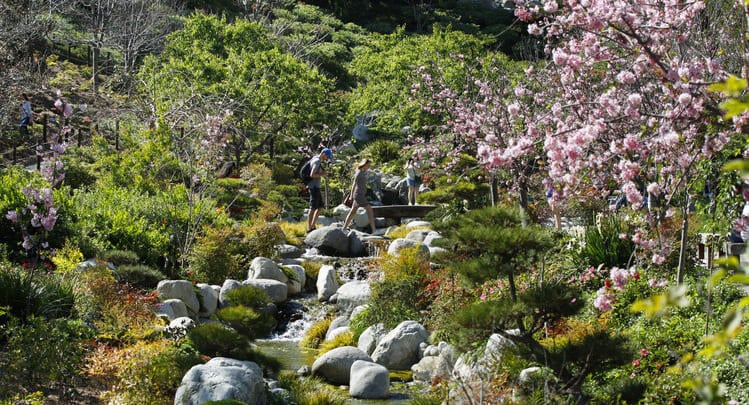 Part of the pleasure in Valentine's Day is the personal time spent with the one you love. For a uniquely romantic setting for your personal time this year, take a stroll through this one-of-a-kind garden. Nearly 100 years old, the Japanese Friendship Garden, San-Kei-En is designed to offer Zen serenity and peace. It was originally created as a gesture of friendship between the U.S. and Japan, and now attracts visitors from all over the world with its simple design and classic features. A visit to the Japanese Friendship Garden will cultivate the perfect state of peace and harmony for you and your partner.
Explore the Art World
Since the dawn of time, man has turned to art to express his love. In fact, some of the most famous pieces in history were inspired by this universal emotion. To soak up some of that passion yourself, stroll through the galleries of San Diego's nationally renowned fine arts museum – the San Diego Museum of Art.
Collections feature everything from the European old masters, 19th and 20th-century paintings, and new works of modernism to sculpture, artifacts, and multi-media artwork. Over Valentine's 2020, you could stop by the Art After Hours for only $5 after 5:00 p.m. on Fridays, experience exhibitions and the Museum's 20 galleries while live music plays at Panama 66 in the May S. Marcy Sculpture Court. Alternatively, on the 15th from 9AM - 1PM, drop in to their Valentine's Workshop where you will join Museum Educator Sheena Dowling for an interactive workshop that takes its inspiration from the many forms and expressions of love depicted in the Museum's works of art. Learn about traditional printmaking techniques and use them to create your own embellished prints or card sets. Other artsy options in the San Diego area include the San Diego Art Institute and the Museum of Contemporary Art. 
Hit Up a Ball Game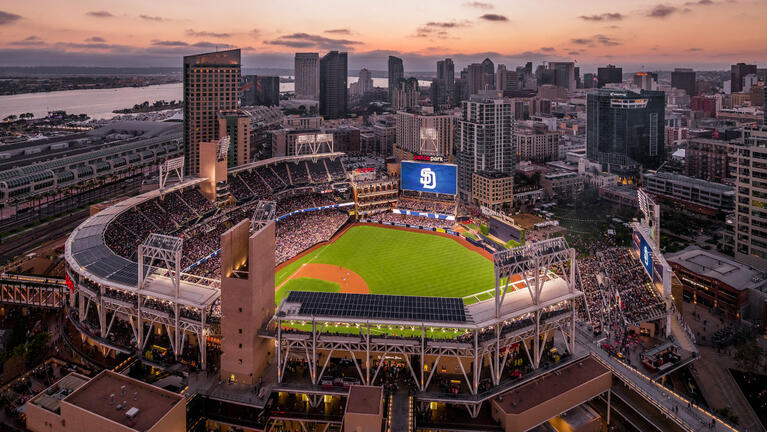 For the sporty couples out there, there are plenty of San Diego sports activities to enjoy. One of our favorite sporty date ideas is an afternoon or evening at the San Diego Padres Stadium, PETCO Park.
You can take a tour of the park most days, or take in a home game when they're in town. There are few things as fun and date-like than a good, old-fashioned baseball game, complete with beer and hotdogs! Of course, this won't be available as Valentine's date idea -- you'd need to wait until March 26 for the 2020 MLB season to begin. If you're still interested in exploring PETCO Park, take a course of this beautiful establishment to see its unique architecture and the perfect situation. These tours are available in the off-season, so you could make it part of a larger Valentine's day plan. 
Reflect on Your History
Valentine's Day is not only a time for romance but also one of a reflection when we think about our personal histories and how we came to be with the people we love today. San Diego's unique Museum of Man is on a mission to help answer questions about that quintessentially human quality. It's the only institution in the region devoted to the celebration of diversity, and one of the only in the world that's all about the human experience. Nestled in the heart of San Diego's historic Balboa Park, the Museum of Man brings together beauty, history, anthropology, art, and artifacts from ancient and contemporary cultures. It's a great way to learn something about our past as you plan for the future. After all, what is more essential to mankind than the idea of love? 
Adventure Through La Jolla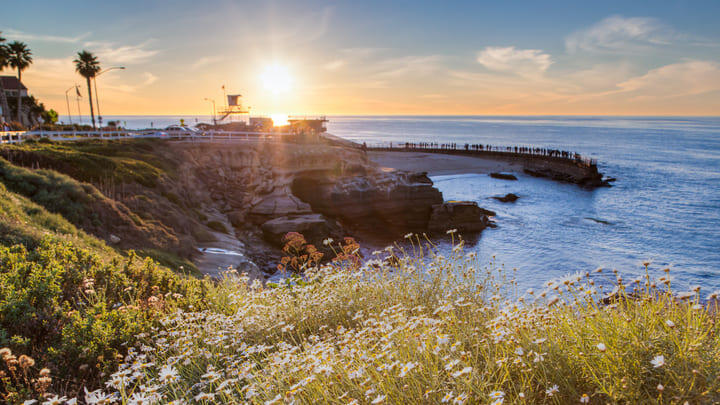 Views don't come much more striking than this. If you're the outdoorsy sort of couple who would love nothing more than to enjoy the fresh and beautiful weather of a San Diego winter, then some time spent in La Jolla sounds like the perfect date idea. Whether you want to hike, bike, snorkel, or swim, there are plenty of options to keep everybody happy.
Plus, it's easy to rent the necessary equipment and gear, so no need to bring your own. Even better? You don't need a lot of (or any!) experience to enjoy these activities, so why not take the opportunity this Valentine's Day to try something new? Take a tour of the area, or explore on your own – there's no shortage of beautiful vistas and stunning ocean scenery to keep you happy. 
Hop Aboard a Romantic Cruise
Another tried-and-true option is the romantic cruise. There are several options floating around for your enjoyment (pun intended), like the champagne brunch cruise or the weekend cruises offered by Hornblower Dinner Cruises. Or, if you'd prefer something a little less formal and overtly lovey-dovey, then a regular cruise might do the trick, like a scenic one-hour Harbor Tour. This thoughtful cruise is an excellent sight-seeing option, too, so it's good for those of you who have come to San Diego for a special getaway trip. 
Indulge in a Romantic Dinner
Call me old-fashioned, but to my mind there are few things as enjoyable as a good romantic dinner. Fortunately, San Diego has some of the most amazing food in the region for you and your Valentine to sample, whether you're interested in high-end seafood or street-side Mexican. If you're looking for ideas for great romantic restaurants, explore areas like the Gaslamp Quarter/Banker's Hill, Downtown, La Jolla, and Del Mar. We recommend using a service like OpenTable to book your free reservations - just do it early!
Take in a Show
If you want to really impress your culturally-inclined date, then a musical performance or theatrical show is a reliable option. This time of year, San Diego has plenty of great shows in town for you to choose from, although there isn't necessarily a lot on the holiday itself because it falls in the middle of the week this year. If you can be flexible in your dates, the Civic Theatre has a performance by the San Diego Opera, and the Balboa Theatre is hosting the California ballet. 
Sweetheart Sail at the Maritime Museum
Hop on board the Californian or San Salvador and enjoy a three-hour scenic tour of San Diego Bay on a special 'Sweetheart Sail.' You'll get to see native wildlife, the stunning San Diego skyline, and landmarks along the way. Enjoy chocolates and champagne while onboard your romantic cruise. 
Remember to Save on Attraction Admission
From the classical to the quirky, and everything in between, we've put together some of our favorite romantic things to do in San Diego and we just know you'll find something to help you put together that perfect date. Remember, some of these great options are included on the Go San Diego pass, where you can save up to 55% on combined admission vs paying at the gate. Please note, the special events taking place at some of these attractions may be separately ticketed and not included with the Go San Diego pass.