Best Beaches in Barcelona
Ah, Barcelona. The Count City. One of Europe's premier places for great food, sunny weather, and a whole heap of culture. And, of course, a tourist's paradise. There's so much to see and do all across the city you might be overwhelmed. After a day of shopping, eating, and culture-absorbing, you might need a nice rest. Or, maybe you're looking for a little sun-soaked thrill? No matter your desires, you'll find it all, and more, at the beach! Golden sand, clear blue sea, and a sky to match. Just thinking about it is enough to give you goose pimples. So, if you're heading to beautiful Barcelona for a short or longer-term stay, you'll want to know which beaches are the best. Well, you're in luck. We've researched the best beaches in Barcelona, so you don't have to. Read on, and discover which is right for you.
Featuring:
Barceloneta
Mar Bella
Sant Sebastia
Nova Icaria
Bogatell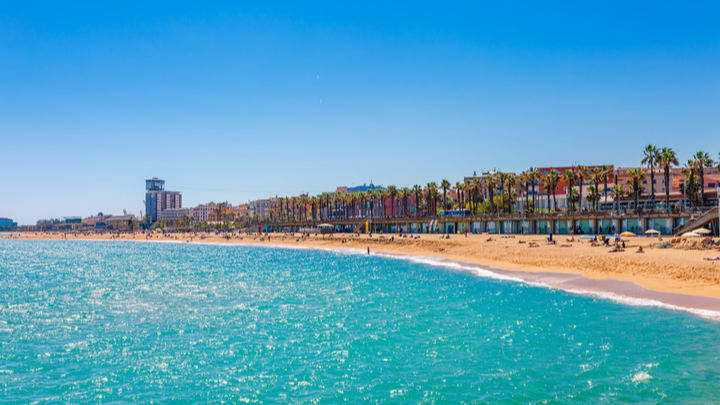 Barceloneta
Barcelona's most famous beach, and the jewel in the city's sandy crown, Barceloneta holds that title with good reason. Golden sand as far as the eye can see. Well, nearly 1400ft of it, at least. Named after the eponymous fishing area where it resides, Barceloneta is truly one for the excitable, thrill-seeking tourist. Whether it's parties past sunset, a great assortment of seafood right on your 'towelstep', or a little seaside shopping, Barceloneta's got you covered.
It's undoubtedly the most lively of the beaches on this list. And, given its renown worldwide, will likely be the busiest too. However, for those of you looking to add a little spice to your sandy stay, it's easily one of the best beaches in Barcelona. There are watersports, more bars than we can count, and other entertainment that'll excite you throughout the day and into the early hours.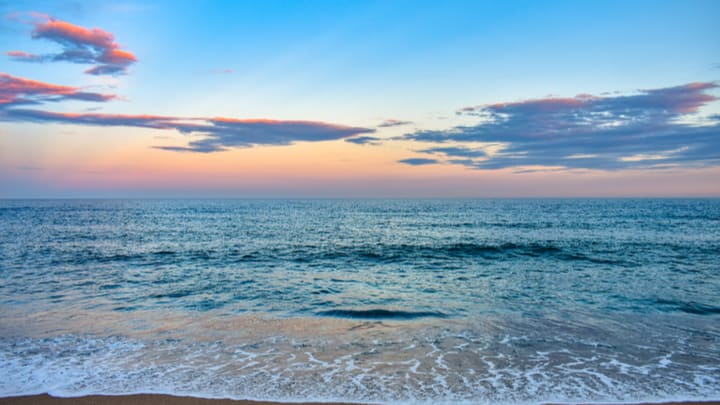 Mar Bella
Let's switch gears for a moment. If Barceloneta's vibe is a little much and you're looking to really relax, then Mar Bella is for you. Known as the quietest beach in the city, it's relatively free from the tourist trappings of other beaches. You won't find bars and parties here. Just calm, peaceful beaches with calm and relaxed people.
Of course, that doesn't mean all you'll be doing is lying down and soaking up rays. There's windsurfing and kayaking on offer for you daredevils out there. It's also worth noting that it's a nudist beach. Now, that doesn't mean you have to go in your birthday suit, but it does mean that other people probably will. But hey, it's the 21st Century. Good for them. And you, if that's your thing.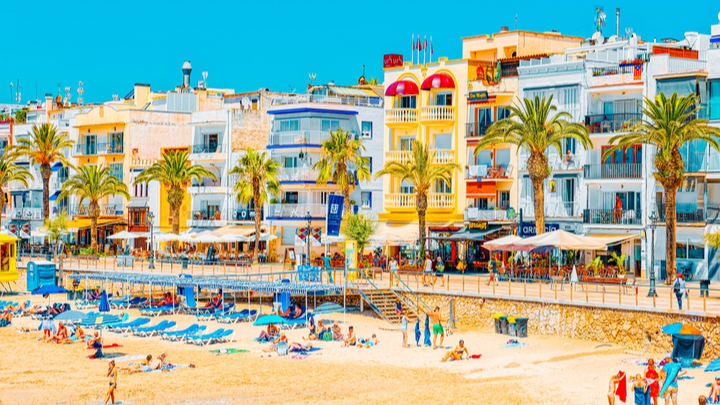 Sant Sebastia
However, if you're looking for something that treads the line between vibey Barceloneta and the zen-like Mar Bella, never fear. Sant Sebastia is here, and it's one of the best beaches in Barcelona!
Often considered the Saint-Tropez of Spain, Sant Sebastia has many of Barceloneta's best bits; the bars, the food, and the activities, but with a fraction of the people. There are sea sports to take part in, boats to relax on, and an entire ocean to swim beneath. You can even do your best Hasselhoff impression and join one of the many volleyball games you'll find. Smash that ball, yeah! Now that's volleyball! But like Mar Bella, it's definitely more laid back, so much so that, like Mar Bella, it also accommodates nudists. So, just be aware that there'll likely be some skin on show.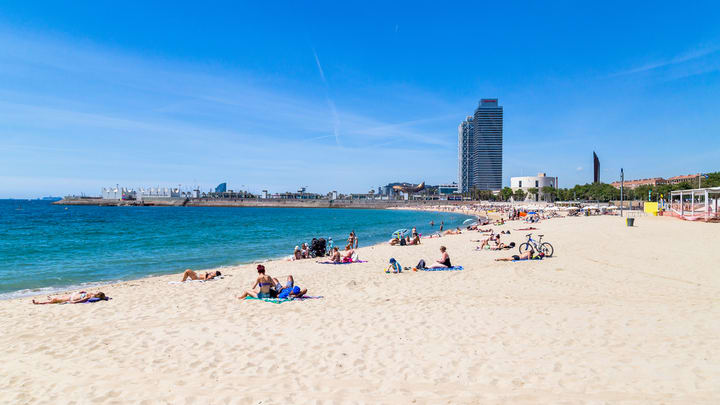 Nova Icaria
Now, the above beaches might not be for everyone. If you're planning to bring the kids with you, perhaps a more clothes-friendly environment will stop any awkward staring or comments. Anything but the staring and comments. Well, Barcelona's got another great beach just for you. Nova Icaria is perfect for families, with a mix of kid-friendly activities like volleyball and water sports, and a nice mix of places to eat and grab a drink to cool off.
Plus, if the sand, sun, and sea aren't enough to keep their curious minds busy, Barcelona Zoo is just a short walk from the beach. There are hundreds of animals to meet, a reptile house filled with exotic species, and the African Savannah section where your little ones can mingle with giraffes, gazelle, and elephants. What more could a child, and a tired adult, want?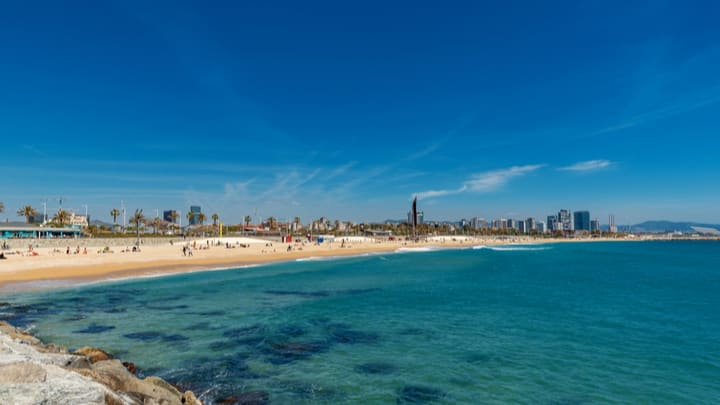 Bogatell
And, finally, for those of you looking for a more grown-up version of Nova Icaria, look no further than Bogatell beach. Firstly, it's a beach, so expect sand, lounging in the sand, and the chance to tan your pale, vitamin d-starved body. There are also plenty of activities to participate in, from ping-pong to volleyball. All that, and nary a whippersnapper in sight. Bogatell has a higher average age than the other beaches. Perfect for the more mature of you, whether in mind or body.
Bogatell is classed as a Blue-Flag Beach, meaning it takes a sustainable approach to its shoreline. For the layman, including us, that means it's cleaner. And, as you'd expect from a Blue-Flag beach with a rubber-stamped body of water, Bogatell has some of the best watersports activities in Barcelona. Windsurfing, kitesurfing, actual surfing, and much, much more. And, after all the action - or inaction - there's a wealth of bars and restaurants just a short walk away. They're sure to quench your thirst or satisfy your well-earned hunger. Or, if you just need to cool down, go grab an ice cream at one of the pop-ups along the beach.
And those were just some of the best beaches in Barcelona. No matter what vibe you're looking for, there's sure to be the perfect beach for you. And, if you're looking for more things to do while you're in the scintillating city, why not add a little culture? Barcelona has a wide variety of art galleries to peruse, and museums to fill the brain to the brim. If you need a break from the sun, why not try some indoor activities? Taking that special someone on your trip? We've got perfect couple's activities just for you.